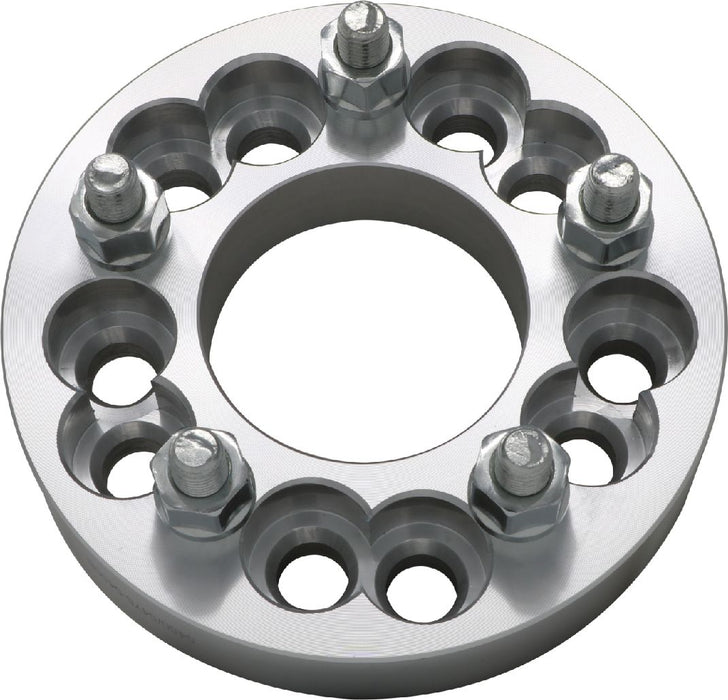 2 Wheel Adapters 5x4.75 or 5x5 to 5x5 - 1.5" Thick
Wheel Adapter

Precise CNC machined from high quality 6061 T6 aircraft grade aluminum
Includes pre-installed heavy duty class 12.9 wheel studs
Easy install with common hand tools - More installation info is listed below
Inventory quantity listed is combined from all locations, the item may ship from other locations.
| | |
| --- | --- |
| Quantity: | Package of 2 |
| Vehicle Bolt Pattern: | 5x4.75 or 5x5 |
| Wheel Bolt Pattern: | 5x5 (5x127) |
| Thickness: | 1.5" (38mm) |
| Hub Bore: | 74mm |
| Stud Size: | 12x1.5 |
| Construction: | 6061 T6 Aluminum |
| Item Type: | Spacer |
| Item SKU: | 5475/5500-5500C |
The installer assumes all responsibility to ensure the spacers are installed properly using the appropriate hardware.
Please ask if you have any questions, we're here to help!
Download installation instructions
Important Notes:
Installation should only be performed by a trained professional.
Two sets of lugs nuts are required to use these spacers.
- One set of open end lugs to bolt the spacer to the vehicle. The vehicles factory lugs are not compatible.
- One set of the appropriate lug nut style with the spacer stud thread size listed above to bolt the wheel to the adapter.
The spacers are shipped with matching open end lugs on the studs, these would be used these to bolt the spacer to the vehicle if the thread size is correct for the vehicle.
Only approved lug nuts can be used to bolt the Spacer to the vehicle, factory lug nuts cannot be used.
Lug nuts on the spacers and wheels must be properly torqued when installing.
Never use air tools, always install by hand.
Some vehicles may require modifications to make the spacers work properly.
Be aware that the studs on the vehicle cannot stick out past the face of the spacer, you may need to modify them by grinding/cutting/trimming.
If there are clips or retaining rings on the vehicle's studs they must be removed.
We make no promise or guarantee that this item is compatible with your vehicle or wheels.
Please verify this is the correct application for the vehicle before ordering, we only guarantee you receive what is described above
Spacers that have been mounted to a vehicle and/or wheels cannot be returned for exchange or refund.
Ask if you have any questions or need assistance with your purchase, we're here to help!
The picture of the item is for general style reference only, it may not be the item that is listed. The item description will show the exact details.